A prospective study of 796 ED patients with suspected cardiac chest pain assessed the value of individual historical and examination findings for diagnosing acute myocardial infarction (AMI) and the occurrence of adverse events (death, AMI or urgent revascularization) within 6 months. AMI was diagnosed in 148 (18.6%) of the 796 patients recruited.
The results may surprise some physicians:
Sweating observed by the ED physician was the strongest predictor of AMI (adjusted OR 5.18, 95% CI 3.02–8.86).
Reported vomiting was also a fairly strong predictor of AMI (adjusted OR 3.50, 1.81–6.77).
Pain located in the left anterior chest was found to be the strongest negative predictor of AMI (adjusted OR 0.25, 0.14–0.46).
Patients who described the pain as being the same as previous myocardial ischaemia were significantly less likely to be having AMI!
Following adjustment for age, sex and ECG changes, the following characteristics made AMI more likely (adjusted odds ratio, 95% confidence intervals):
pain radiating to the right arm (2.23, 1.24-4.00)
pain radiating to both arms (2.69, 1.36-5.36)
vomiting reported (3.50, 1.81-6.77), central chest pain (3.29, 1.94-5.61)
sweating observed by physician (5.18, 3.02-8.86)
Pain in the left anterior chest made AMI significantly less likely (0.25, 0.14-0.46)
The presence of rest pain (0.67, 0.41-1.10) or pain radiating to the left arm (1.36, 0.89-2.09) did not significantly alter the probability of AMI.
Compare these results with the American Heart Association guidelines which state that "chest or left arm pain or discomfort as the chief symptom reproducing prior documented angina" is associated with a high likelihood of ACS, or the European Society of Cardiology guidelines which state that "the typical clinical presentation of NSTE-ACS is retrosternal pressure or heaviness radiating to the left arm, neck or jaw", which the authors of this study point out are statements made based on expert opinion for which references are not given.
The authors summarise with a powerful message: 'Several 'atypical' symptoms actually render AMI more likely, whereas many 'typical' symptoms that are often considered to identify high-risk populations have no diagnostic value.'
The value of symptoms and signs in the emergent diagnosis of acute coronary syndromes
Resuscitation. 2010 Mar;81(3):281-6




This new device uses 5 LCD screens and motion parallax to give the illusion of contained 3D objects when you move it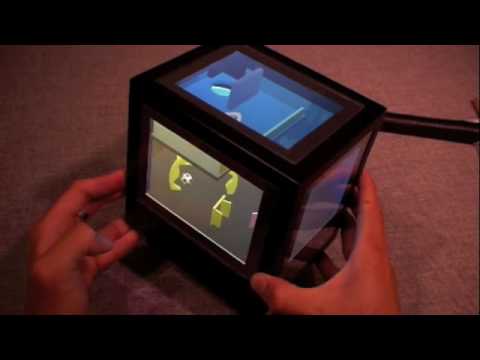 In a retrospective study of 45,284 penetrating trauma patients, unadjusted mortality was twice as high in the 4.3% of  patients who underwent spine immobilisation, compared with those who were not immobilised.
An accompanying editorial comments: 'The number needed to treat with spine immobilization to potentially benefit one penetrating trauma patient was 1,032. The number needed to harm with spine immobilization to potentially contribute to one death was 66.'
Spine immobilization in penetrating trauma: more harm than good?
J Trauma. 2010 Jan;68(1):115-20
A case is described of a 12 month old who completely obstructed her airway from an inhaled plastic ketchup container. As she did not improve with backslaps or chest thrusts her father, a physician, suctioned her airway using his own mouth (intermittently spitting out secretions) until the obstruction was relieved and the object removed. Something to think about if you're at the end of your own child's choking algorithm and you have no airway equipment with you.
Maneuver for the recovery of a foreign body causing a complete airway obstruction: illustrative case.
Pediatr Emerg Care. 2010 Jan;26(1):39-40
Medical students and junior doctors were successfully taught correct airway management positioning for intubation on a manikin when told to position the manikin in the best position to win a running race, where the chin wins the race. (The so-called 'win with the chin' position). This was superior to the traditional 'sniff the morning air' position.
Teaching airway management to novices: a simulator manikin study comparing the 'sniffing position' and 'win with the chin' analogies
Br J Anaesth. 2010 Apr;104(4):496-500
Febrile children aged three months to three years with a white cell count over 25000/mm3 and fever were compared with controls whose leucoytosis was less extreme (15000-24999). The 'extreme' group had serious bacterial infection (SBI) in 39% compared with 15.4% controls. Pneumonia was the commonest SBI.
The authors conclude that in febrile children aged 3–36 months, the presence of extreme leucocytosis is associated with a 39% risk of having SBIs. The increased risk for SBI is mainly due to a higher risk for pneumonia. I conclude that leucocytosis is like fever: the cause may be benign, but the higher the number the less likely that is, even though the majority still won't have SBI.
Extreme leucocytosis and the risk of serious bacterial infections in febrile children
Arch Dis Child. 2010 Mar;95(3):209-12
ICU patients with thoracic trauma who had no other indication for intubation than marked hypoxaemia (pO2/FiO2 < 200 mmHg) were randomised to intubation vs non-invasive ventilation (NIV). Analgesia was via epidural bupivacaine / fentanyl or iv remifentanil. Numbers are small (total 50 patients) - partly because the trial was stopped early due to large difference in the outcome of tracheal intubation between the two groups favouring NIV. Length of hospital stay was significantly shorter in the NIV group but there was no survival difference.
Noninvasive ventilation reduces intubation in chest trauma-related hypoxemia: a randomized clinical trial
Chest. 2010 Jan;137(1):74-80
A prospective open label randomised controlled trial from China compared two doses of r-tPA for massive or submassive PE. 50 mg / 2hr was as efficacious as 100 mg / 2hr but had fewer bleeding complications. Bleeding was much more common in patients under 65 kg, suggesting perhaps there should be dose per kg instead of a nice round number?
Efficacy and safety of low dose recombinant tissue-type plasminogen activator for the treatment of acute pulmonary thromboembolism: a randomized, multicenter, controlled trial.
Chest. 2010 Feb;137(2):254-62
A retrospective review of appropriate vs inappropriate antimicrobial therapy was undertaken in over four thousand septic shock patients from multiple centres. In terms of definitions, the authors state:
"Appropriate antimicrobial therapy was considered to have been initiated if an antimicrobial with in vitro activity appropriate for the isolated pathogen or pathogens (or in the case of culture-negative septic shock, an antimicrobial or antimicrobial agent concordant with accepted international norms for empiric therapy and modified to local flora) was either the first new antimicrobial agent with which therapy was started after the onset of recurrent or persistent hypotension or was initiated within 6 h of the administration of the first new antimicrobial agent. Otherwise, inappropriate therapy was considered to have been initiated."
The results are striking: survival rates after appropriate and inappropriate initial therapy were 52.0% and 10.3%, respectively (odds ratio [OR], 9.45; 95% CI, 7.74 to 11.54; p < 0.0001).
A multivariable logistic regression analysis of possible factors that may affect outcome showed the appropriateness of the initial antimicrobial therapy remained most strongly associated with outcome (OR, 8.99; 95% CI, 6.60 to 12.23; p < 0.0001) among all the risk factors assessed.
Initiation of Inappropriate Antimicrobial Therapy Results in a Fivefold Reduction of Survival in Human Septic Shock
Chest. 2009 Nov;136(5):1237-48
N.B. This work was done by the same authors who brought us the study that showed the earlier antibiotics were given to hypotensive septic patients, the better the outcome:
Kumar A, Roberts D, Wood KE, et al. Duration of hypotension before initiation of effective antimicrobial therapy is the critical determinant of survival in human septic shock. Crit Care Med 2006; 34:1589-1596
Organised secretions can build up in a tracheal tube. This increases airway resistance so during a spontaneous breathing trial in a patient being considered for extubation the patient may have increased work of breathing and unfairly fail the trial, delaying extubation.
How can you spot it? Increased airways resistance can increase peak airway pressure. However inspiratory plateau pressure will not be affected (obtained by performing an inspiratory hold). Identifying a big difference between peak and plateau pressures should prompt a search for increased airway resistance, which includes a narrowed tracheal tube lumen. The amount of accumulated secretion is not necessarily related to the duration of intubation.
Increases in endotracheal tube resistance are unpredictable relative to duration of intubation
Chest 2009; 136:1006-1013