The UK's National Institute for Health and Clinical Excellence has produced a guideline on the management of bacterial meningitis and meningococcal septicaemia in children.
The guidelines cover when to treat a petechial rash, when to give steroids, when to do an LP (and what to test), how much fluid to give, and a number of other areas that otherwise can cause confusion.
The management of bacterial meningitis and meningococcal septicaemia in children and young people younger than 16 years in primary and secondary care
NICE guidance




Infant CPR guidelines recommend two-finger chest compressions with a lone rescuer and two-thumb with two rescuers. Two-thumb provides better chest compression but is perceived to be associated with increased ventilation hands-off time. A manikin study revealed more effective compressions with the two-thumb technique with only four fewer compressions per minute compared with two-fingers.
Two-thumb technique is superior to two-finger technique during lone rescuer infant manikin CPR
Resuscitation. 2010 Jun;81(6):712-7
Investigators at the Royal North Shore Hospital in Sydney (it's good there) did a literature review to determine the best 'gold standard' way of performing a Valsalva manoeuvre for SVT, and assessed success rates before and after its introduction into the ED.
The technique required the patient to lie supine on the bed in a Trendelenberg position, and forcefully expire into a section of suction tubing and pressure gauge for at least 15 seconds and at a pressure of at least 40 mm Hg. The theory behind increased success in a supine position lies in augmenting the patients' vagal tone and attenuating the sympathetic tone in addition to increased venous return during phase IV of Valsalva. The 'standardised' technique improved the rate of successful termination of SVT from 5.3% to 31.7%
Impact of a modified Valsalva manoeuvre in the termination of paroxysmal supraventricular tachycardia

Emerg Med J. 2010 Apr;27(4):287-91
Avalanche burial has a high mortality and yet in some cases there have been some amazing saves despite prolonged cardiac arrest. An international working group undertook a systematic review to examine 4 critical prognostic factors for burial victims in cardiac arrest. You have a better chance of surviving a prolonged burial if you have a patent airway and a pocket of air (even a very small one), are hypothermic, and preferably not hyperkalaemic.
Prognostic factors in avalanche resuscitation: A systematic review
Resuscitation. 2010 Jun;81(6):645-52
Physicians from HEMS London document their experience of 400 pre-hospital rapid sequence induction / intubations. Their data are consistent with the experience of other similar services and with the emergency airway management literature in general:
Failure to intubate is rare
Removing cricoid pressure often improves the view
A BURP manoeuvre can improve the view and facilitate intubation, but bimanual laryngoscopy / external laryngeal manipulation is better
Having an SOP optimises first-pass success rate
Cricoid pressure and laryngeal manipulation in 402 pre-hospital emergency anaesthetics: Essential safety measure or a hindrance to rapid safe intubation?
Resuscitation 2010(81):810–816
Transjugular intrahepatic portosystemic shunt (TIPS) is often used as a rescue therapy in cirrhotic patients with variceal haemorrhage after vasoactive drug therapy and endoscopic ligation have failed. A randomised study compared this standard management with earlier TIPS within 72 hours after randomisation (and randomisation occurred within 24 hours of admission). The early use of TIPS was associated with significant reductions in treatment failure and in mortality.
Not sure what TIPS is? This video I found on YouTube explains it nicely..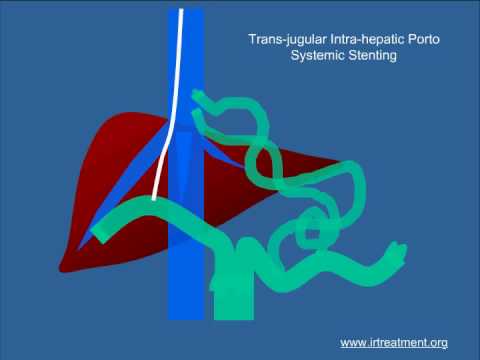 Early Use of TIPS in Patients with Cirrhosis and Variceal Bleeding
NEJM 2010;362:2370-2379
A Scottish study of 628 pre-hospital intubation attempts in cardiac arrest patients records the rate of successful intubations, oesophageal intubations, and endobronchial intubations. Prehospital tracheal intubation was associated with decreased rates of survival to admission. This study has the limitations of a retrospective series but indirectly provides some further muscle to the supraglottic airway lobby.
Field intubation of cardiac arrest patients: a dying art?
Emerg Med J. 2010 Apr;27(4):321-3
A thorough review of the emergency medicine sedation literature showed there is only one reported case of pulmonary aspiration during emergency procedural sedation, among 4657 adult cases and 17 672 paediatric cases reviewed. The authors of the review remind us that the often (inappropriately in the ED) quoted American Society of Anesthesiology guidelines for fasting prior to general anaesthesia are based on questionable evidence, and there is high-level evidence that demonstrates no link between pulmonary aspiration and non-fasted patients. There is no reason to recommend routine fasting prior to procedural sedation in the majority of patients in the Emergency Department.
An accompanying editorial points out that like other systematic reviews, the methodological flaws of the studies examined are likely to have limited the conclusions of this review.
The review authors and the editorialist agree that despite the lack of evidence linking fasting status to aspiration, selected patients believed to be significantly more prone to aspiration may benefit from risk:benefit assessment prior to sedation.
Something I learned from reading the review: ' it is now recognised that asymptomatic aspiration of gastric contents occurs physiologically during normal sleep'. How about that.
Pre-procedural fasting in emergency sedation
Emerg Med J. 2010 Apr;27(4):254-61
A 'BestBET' from the Emergency Medicine Journal examined the evidence for the use of sodium bicarbonate and/or mannitol in the management of rhabdomyolysis.
The clinical bottom line: there is no quality published evidence that alkaline diuresis is a superior treatment to normal saline alone.
Rhabdomyolysis and the use of sodium bicarbonate and/or mannitol
Emerg Med J. 2010 Apr;27(4):305-8
Full Text at the BestBets site
A Cochrane review examined the evidence from randomised controlled trials to establish whether routine use of inhaled oxygen in acute myocardial infarction (AMI) improves patient-centred outcomes, the primary outcomes being death, pain and complications.
Three trials involving 387 patients were included and 14 deaths occurred. The pooled relative risk (RR) of death was 2.88 (95% CI 0.88 to 9.39) in an intention-to-treat analysis and 3.03 (95% CI 0.93 to 9.83) in patients with confirmed AMI. While suggestive of harm, the small number of deaths recorded meant that this could be a chance occurrence. Pain was measured by analgesic use. The pooled RR for the use of analgesics was 0.97 (95% CI 0.78 to 1.20).
There is therefore no conclusive evidence from randomised controlled trials to support the routine use of inhaled oxygen in patients with acute AMI. A definitive randomised controlled trial is required.
Oxygen therapy for acute myocardial infarction
Cochrane Review