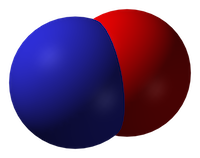 The use of inhaled nitric oxide is established in certain groups of patients: it improves oxygenation (but not survival) in patients with acute respiratory distress syndrome(1), and it is used in neonatology for management of persistent pulmonary hypertension of the newborn(2). But it can be applied in other resuscitation settings: in arrested or peri-arrest patients with pulmonary hypertension.
Read this (modified) description of a case managed by one of my resuscitationist friends from an overseas location:
It sounds impressive. I don't have more case details, and don't know how confident they could be about the diagnosis of amniotic fluid embolism but the presentation certainly fits with acute pulmonary hypertension with RV failure. The use of inhaled nitric oxide has certainly been described for similar scenarios before(3). But it raises bigger questions: is this something we should all be capable of? Are there cardiac arrests involving or caused by pulmonary hypertension that will not respond to resuscitation without nitric oxide?
Nitric oxide
Inhaled nitric oxide is a pulmonary vasodilator. It decreases right-ventricular afterload and improves cardiac index by selectively decreasing pulmonary vascular resistance without causing systemic hypotension(4).
RV failure and pulmonary hypertension
Patients may become shocked or suffer cardiac arrest due to acute right ventricular dysfunction. This may be due to a primary cardiac cause such as right ventricular infarction (always consider this in a hypotensive patient with inferior STEMI, and confirm with a right ventricular ECG and/or echo). Alternatively it could be due to a pulmonary or systemic cause resulting in severe pulmonary hypertension, causing secondary right ventricular dysfunction. The commonest causes of acute pulmonary hypertension are massive PE, sepsis, and ARDS(5).
The haemodynamic consequences of RV failure are reduced pulmonary blood flow and inadequate left ventricular filling, leading to decreased cardiac output, shock, and arrest. In severe acute pulmonary hypertension the RV distends, resulting in a shift of the interventricular septum which compresses the LV and further inhibits LV filling (the concept of ventricular interdependence).
What's wrong with standard ACLS?
In some patients with PHT who arrest, CPR may be ineffective due to a failure to achieve adequate pulmonary blood flow and ventricular filling. In one study of patients with known chronic PHT who arrested in the ICU, survival rates even for ventricular fibrillation were extremely poor and when measured end tidal carbon dioxide levels were very low. In the same study it was noted that some of the survivors had received an intravenous bolus administration of iloprost, a prostacyclin analogue (and pulmonary vasodilator) during CPR(6).
CPR may therefore be ineffective. Intubation and positive pressure ventilation may also be associated with haemodynamic deterioration in PHT patients(7), and intravenous epinephrine (adrenaline) has variable effects on the pulmonary circulation which could be deleterious(8).
If inhaled nitric oxide (iNO) can improve pulmonary blood flow and reduce right ventricular afterload, it could theoretically be of value in cases of shock or arrest with RV failure, especially in cases of pulmonary hypertension; these are patients who otherwise have poor outcomes and may not benefit from CPR.
Is the use of iNO described in shock or arrest?
Numerous case reports and series demonstrate recovery from shock or arrest following nitric oxide use in various situations of decompensated right ventricular failure from pulmonary hypertension secondary to pulmonary fibrotic disease(9), pneumonectomy surgery(10), and pulmonary embolism(11) including post-embolectomy(12).
Acute hemodynamic improvement was demonstrated following iNO therapy in a series of right ventricular myocardial infarction patients with cardiogenic shock(13).
A recent systematic review of inhaled nitric oxide in acute pulmonary embolism documented improvements in oxygenation and hemodynamic variables, "often within minutes of administration of iNO". The authors state that these case reports underscore the need for randomised controlled trials to establish the safety and efficacy of iNO in the treatment of massive acute PE(14).
Why aren't they telling us to use it?
If iNO may be helpful in certain cardiac arrest patients, why isn't ILCOR recommending it? Actually it is mentioned – in the context of paediatric life support. The European Resuscitation Council states:

Should we use it?
So if acute (or acute on chronic) pulmonary hypertension can be suspected or demonstrated based on history, examination, and echo findings, and the patient is in extremis, it might be anticipated that standard ACLS approaches are likely to be futile (as they often are if the underlying cause is not addressed). One might consider attempts to induce pulmonary vasodilation to improve pulmonary blood flow and LV filling, improving oxygenation, and reducing RV afterload as means of reversing acute cor pulmonale.
Are there other pulmonary vasodilators we can use?
iNO is not the only means of inducing pulmonary vasodilation. Oxygen, hypocarbia (through hyperventilation)(15), and alkalosis are all known pulmonary vasodilators, the latter providing an argument for intravenous bicarbonate therapy from some quarters(16). Prostacyclin is a cheaper alternative to iNO(17) and can be given by inhalation or intravenously, although is more likely to cause systemic hypotension than iNO. Some inotropic agents such as milrinone and levosimendan can lower pulmonary vascular resistance(18).
What's the take home message?
The take home message for me is that acute pulmonary hypertension provides yet another example of a condition that requires the resuscitationist to think beyond basic ACLS algorithms and aggressively pursue and manage the underlying cause(s) of shock or arrest. Inhaled pulmonary vasodilators may or may not be available but, as always, whatever resources and drugs are used, they need to be planned for well in advance. What's your plan?

References
1. Adhikari NKJ, Dellinger RP, Lundin S, Payen D, Vallet B, Gerlach H, et al.
Inhaled Nitric Oxide Does Not Reduce Mortality in Patients With Acute Respiratory Distress Syndrome Regardless of Severity.
Critical Care Medicine. 2014 Feb;42(2):404–12
2. Steinhorn RH.
Neonatal pulmonary hypertension.
Pediatric Critical Care Medicine. 2010 Mar;11:S79–S84 Full text
3. McDonnell NJ, Chan BO, Frengley RW.
Rapid reversal of critical haemodynamic compromise with nitric oxide in a parturient with amniotic fluid embolism.
International Journal of Obstetric Anesthesia. 2007 Jul;16(3):269–73
4. Creagh-Brown BC, Griffiths MJ, Evans TW.
Bench-to-bedside review: Inhaled nitric oxide therapy in adults.
Critical Care. 2009;13(3):221 Full text
5. Tsapenko MV, Tsapenko AV, Comfere TB, Mour GK, Mankad SV, Gajic O.
Arterial pulmonary hypertension in noncardiac intensive care unit.
Vasc Health Risk Manag. 2008;4(5):1043–60 Full text
6. Hoeper MM, Galié N, Murali S, Olschewski H, Rubenfire M, Robbins IM, et al.
Outcome after cardiopulmonary resuscitation in patients with pulmonary arterial hypertension.
American Journal of Respiratory and Critical Care Medicine. 2002 Feb 1;165(3):341–4.
Full text
7. Höhn L, Schweizer A, Morel DR, Spiliopoulos A, Licker M.
Circulatory failure after anesthesia induction in a patient with severe primary pulmonary hypertension.
Anesthesiology. 1999 Dec;91(6):1943–5 Full text
8. Witham AC, Fleming JW.
The effect of epinephrine on the pulmonary circulation in man.
J Clin Invest. 1951 Jul;30(7):707–17 Full text
9. King R, Esmail M, Mahon S, Dingley J, Dwyer S.
Use of nitric oxide for decompensated right ventricular failure and circulatory shock after cardiac arrest.
Br J Anaesth. 2000 Oct;85(4):628–31. Full text
10. Fernández-Pérez ER, Keegan MT, Harrison BA.
Inhaled nitric oxide for acute right-ventricular dysfunction after extrapleural pneumonectomy.
Respir Care. 2006 Oct;51(10):1172–6 Full text
11. Summerfield DT, Desai H, Levitov A, Grooms DA, Marik PE.
Inhaled Nitric Oxide as Salvage Therapy in Massive Pulmonary Embolism: A Case Series.
Respir Care. 2012 Mar 1;57(3):444–8 Full text
12. Schenk P, Pernerstorfer T, Mittermayer C, Kranz A, Frömmel M, Birsan T, et al.
Inhalation of nitric oxide as a life-saving therapy in a patient after pulmonary embolectomy.
Br J Anaesth. 1999 Mar;82(3):444–7 Full text
13. Inglessis I, Shin JT, Lepore JJ, Palacios IF, Zapol WM, Bloch KD, et al.
Hemodynamic effects of inhaled nitric oxide in right ventricular myocardial infarction and cardiogenic shock.
Journal of the American College of Cardiology. 2004 Aug;44(4):793–8 Full text
14. Bhat T, Neuman A, Tantary M, Bhat H, Glass D, Mannino W, Akhtar M, Bhat A, Teli S, Lafferty J.
Inhaled nitric oxide in acute pulmonary embolism: a systematic review.
Rev Cardiovasc Med 2015;16(1):1–8.
15. Mahdi M, Joseph NJ, Hernandez DP, Crystal GJ, Baraka A, Salem MR.
Induced hypocapnia is effective in treating pulmonary hypertension following mitral valve replacement.
Middle East J Anaesthesiol. 2011 Jun;21(2):259-67
16. Evans S, Brown B, Mathieson M, Tay S.
Survival after an amniotic fluid embolism following the use of sodium bicarbonate.
BMJ Case Rep. 2014;2014
17. Fuller BM, Mohr NM, Skrupky L, Fowler S, Kollef MH, Carpenter CR.
The Use of Inhaled Prostaglandins in Patients With ARDS: A Systematic Review and Meta-analysis.
Chest. 2015 Jun;147(6):1510–22 Full text
18. LITFL: Right Ventricular Failure
Further reading
Life In The Fast Lane iNO info
LITFL on Pulmonary Hypertension




Our inside reporter Dr Louisa Chan provides an update from Day One of the London Trauma Conference:
At risk of sounding like a resuscisaurus, last year was my first foray into the world of blogging. I'm proud to say that the genetic make up of most emergency physicians allows us to adapt so that others do not die! And so here I am again, making my way into the big smoke to report on the great developments of 2013.
I've struggled in the past to prise myself away from the main trauma track, it is after all the London Trauma Conference, which has left me curious as to the content of the Cardiac arrest symposium, this year it has been integrated, so I finally get to scratch that itch.
Prehospital Cardiac Arrest Management in Scotland
The conference was kicked off by Richard Lyon's inspirational description of his TOPCAT study.
In Scotland, of 50 cardiac arrests, 6 will survive to hospital and only 1 will survive to hospital discharge. The survival to hospital discharge in the UK is getting worse (4.8% 1995- 0.7% 2007)
Spurred on by these dreadful figures and a personal quest to improve cardiac arrest care (his father succumbed to a cardiac arrest in his forties)
All in all he has studied 400 cardiac arrest patients pre hospital. So what has he learnt?
Precise application of the chain of survival to your own system is vital in

the delivery of Quality CPR.

He started in the ambulance control room analysing calls (CPR starts at step 11 so more experienced dispatchers skip thee quicker) and worked his way through the chain of survival.
The TOPCAT study revealed a 3 min delay to compressions where early intubation and cannulation were performed. Through an education program delivering knowledge and skills with individualised feedback they were able to increase on-chest time.
LEADERSHIP was a big factor. Having a clinician dedicated to managing the team improved on chest time and is now delivered by paramedics manning a car response in Edinburgh.
Breaks in CPR during movement are overcome by a mechanical chest compression device on carry sheet.
Non technical skills are monitored by camera feed
These changes have led to a survival to hospital discharge rate of 38% for patients in VF
This could translate into an extra 300 lives saved in Scotland when these changes are rolled out nationally.
And now there is a move to transport patients who are in VF after the third shock then straight to cath lab.
Echocardiography in cardiac arrest
Prof Tim Harris spoke about his passion – echocardiography in resuscitation. If you were in any doubt before then you would leave convinced.
Of course echo should not interfere with CPR so it should be done during the rhythm check with a 10 sec count down.
He covered the usual uses; PEA vs EMD in prognostication (92% sensitivity and 82% specificity to ROSC), Circulation assessment and an estimation of EF (Normal function – anterior mitral valve leaflet hits the septum or is within 5mm , EF 30-45% between 5mm- 18mm and >18mm ant mitral valve leaflets – 30% EF)
Cardiogenic shock after cardiac arrest
Professor Deakin: optimising cardiac function after ROSC revolves around the three elements of preload, SVR and myocardial contractility. For those who can still remember how, he recommends preload should be optimised to a LA pressure 15-20mmHg (2-12 normal) with a Swan Ganz catheter.
SVR and contractility can be manipulated thereafter using traditional vasopressors and inotropes or more novel agents like Levosimendan.
Mechanical devices such as IABP, Impella, TandemSupport are useful if available.
Where does the future lie? Perhaps synchronised pacing, hypothermia, extrathoracic ventilation and gene therapy.
Open chest cardiac massage
Prof Karim Brohi: external chest compressions have been around since the 1960′s. Without a doubt external compressions generate a cardiac output, but is this the best way?
Over the last 10 years the priorities in traumatic cardiac arrest have changed – chest compressions are not instituted until after reversible causes have been addressed.
In non traumatic arrest how could we improve?
In canine models coronary perfusion pressure is five times better with internal cardiac massage, providing better survival rates with intact neurology.
There are a few human studies showing marked differences in cardiac index: 1.31 in the open group vs 0.61 in the closed group. In a Japanese study (1993), ROSC was achieved in 58% in open vs 1% closed.
The technique is two handed and the same as that taught in thoracotomy training. The difference is that in medical cardiac arrest you can use a smaller incision ( left lateral).
Who should we use open cardiac massage on? Perhaps in tamponade and pulmonary embolism?
How about when? When 10-15min with "standard care" has failed?
Perhaps it is time for a trial?
Post cardiac arrest syndrome and neuro protective measures
Prof Simon Redwood and Matt Thomas had overlapping talks on this . The bottom line is don't have too much or too little CO2 or O2. The therapeutic hypothermia debate continues, what is evident is that there should be temperature control to avoid hyperthermia but what temperature? And there may be other benefits to hypothermia eg. limitation of infarct size.
What has been evident from all the speakers today is that it is an integrated system that saves lives and in order to guide the development of your system you need data and the belief that you can improve cardiac arrest outcomes.
More from me tomorrow!
Louisa Chan

Two recent trials question the ongoing use of intra-aortic balloon pumps: in patients with acute myocardial infarction with cardiogenic shock undergoing revascularisation(1), and patients with poor left ventricular function undergoing coronary artery bypass surgery(2).
Editorialists Krischan D Sjauw and Jan J Piek from the Netherlands make the following commentary(3) in reference to one of the studies:
Although the results of IABP-SHOCK II question the usefulness of IABP therapy in cardiogenic shock, there still might be an indication for initial stabilisation of severely compromised patients, especially in centres without facilities for early revascularisation, as an adjunct to thrombolytic therapy, or to allow transport to specialised tertiary centres.
So retrieval specialists like me may still be up in the night transferring patients with balloon pumps, but these studies suggest this should be restricted to those with cardiogenic shock pending corrective therapy (eg. revascularisation for AMI or surgery for acute mitral valvular dysfunction). Unless the ECMO team gets to them first, of course.
1. Intra-aortic balloon counterpulsation in acute myocardial infarction complicated by cardiogenic shock (IABP-SHOCK II): final 12 month results of a randomised, open-label trial
The Lancet, Volume 382, Issue 9905, Pages 1638 – 1645

2. A Randomized Controlled Trial of Preoperative Intra-Aortic Balloon Pump in Coronary Patients With Poor Left Ventricular Function Undergoing Coronary Artery Bypass Surgery
Crit Care Med. 2013 Nov;41(11):2476-83

3. Is the intra-aortic balloon pump leaking?
Lancet 2013;382:1616-7
Counterintuitive as it sounds, this is pretty cool. I blogged about these guys before when they published their findings on microcirculatory flow in septic patients given beta blockers.
It's a small study – 77 patients with septic shock and a heart rate of 95/min or higher requiring high-dose norepinephrine to maintain a mean arterial pressure of at least 65 mm Hg were randomised to receive a continuous infusion of esmolol titrated to maintain heart rate between 80/min and 94/min for their ICU stay. 77 patients received standard treatment. It should be noted the primary outcome (target heart rate) was not a patient-oriented endpoint. Interestingly though, there were no increased adverse events in the beta blocker group, which demonstrated improved left ventricular stroke work, lower lactate levels, decreased noradrenaline and fluid requirements, improved oxygenation, and a lower mortality.
Caution is appropriate here though: this study was a small, single-centre open-label trial. It will be very interesting to see if these effects are reproduced and whether they will ultimately translate to meaningful outcome benefits.
Read more about the study at the PulmCCM site.
There is also a great critical appraisal of the study at Emergency Medicine Literature of Note/a>.
Effect of heart rate control with esmolol on hemodynamic and clinical outcomes in patients with septic shock: a randomized clinical trial
JAMA. 2013 Oct 23;310(16):1683-91

It's nice to have big randomised trials to guide critical care practice. The age-old crystalloid/colloid debate (is that still going?) has fueled a multicentre and multinational study in 2857 patients with hypovolaemic shock on intensive care units. Patients were classified as having sepsis, trauma, or other causes of hypovolaemic shock.
In the crystalloids group, allowed treatments included isotonic or hypertonic saline and any buffered solutions. In the colloids group, gelatins, albumin from 4-25%, dextrans, and hydroxyethyl starches were permitted.
The primary outcome of 28 day mortality was no different between groups. The study had an open-label design and recruitment took place over nine years.
This finding – no clinical benefit from colloids in critically ill patients – is in keeping with other major ICU trials of colloid therapy: Saline versus Albumin Fluid Evaluation (SAFE), Efficacy of Volume Substitution and Insulin Therapy in Severe Sepsis (VISEP), Scandinavian Starch for Severe Sepsis/Septic Shock (6S), and the Crystalloid versus Hydroxyethyl Starch Trial (CHEST).
Effects of fluid resuscitation with colloids vs crystalloids on mortality in critically ill patients presenting with hypovolemic shock: the CRISTAL randomized trial
JAMA. 2013 Nov 6;310(17):1809-17

What do septic patients need if they remain shocked after fluid resuscitation? Catecholamines right? Let's stimulate some adrenoceptors and support that circulation!
Sydney's Prof Myburgh has told us why adrenaline (epinephrine) and noradrenaline (norepinephrine) are the go-to vasoactive choices, and Prof Singer from London likes to remind us about the detrimental effects of these drugs – the pros and cons are listed here. Tachycardia is associated with worse outcomes in sepsis, and the balance of oxygen supply and demand can be difficult to achieve. Beta blocking drugs could reduce tachycardia, but there does seem to be something counter-intuitive about giving both beta-blockers and catecholamines in the same patient. You might expect that beta blockers would cause fall in cardiac output and worsen tissue perfusion.
A small study previously showed possible helpful effects of beta blockers in children with burns. The potential benefits may extend beyond control of heart rate to anti-inflammatory / anti-catabolic effects. A recent publication evaluated beta blockers in adult patients with septic shock, which appears to be a pilot study for an ongoing randomised controlled trial.
They included patients who had been fluid resuscitated and who required noradrenaline, and treated them with a titrated esmolol infusion commenced at 25 mg/hr, with an upper dose limit of 2,000 mg/hr, to maintain a predefined HR range between 80 and 94 beats per minute. Esmolol was chosen because of its half-life of approximately 2 min, so any adverse effects could be rapidly reversed. They examined the macrocirculation using pulmonary artery catheterisation and the microcirculation using sublingual microvascular blood flow imaging.
Most of the patients had pneumonia, and interestingly, all patients received intravenous hydrocortisone (200mg/d) as a continuous infusion.
In this small cohort of patients, they found that titrating the heart rate to less than 95 bpm was associated with maintenance of stroke volume and preservation of microvascular blood flow. Although cardiac output fell because of the lower HR, stroke volume, MAP, and lactate levels were unchanged while noradrenaline requirements were reduced.
Microvascular Effects of Heart Rate Control With Esmolol in Patients With Septic Shock: A Pilot Study
Crit Care Med. 2013 Sep;41(9):2162-2168
One of the current Holy Grails of ED critical care is to find a reliable measure of fluid responsiveness in those patients with impaired organ perfusion, such as those with severe sepsis. This would enable us to identify those patients whose cardiac output would be improved by fluid therapy, and avoid subjecting 'non-responders' to the risks associated with fluid overload. Thanks to the uptake of early goal-directed therapy in sepsis, under-resuscitation is now much less common in the ED. However a growing evidence base reveals the dangers of over-resuscitation. We have a responsibility to optimise fluid therapy as best we can with the equipment we have, according to the latest evidence.
Inferior Vena Cava Ultrasound
Some tests of fluid responsiveness rely on the effect of respiration-induced changes in pleural pressure on the circulation. Inferior vena cava (IVC) size and degree of inspiratory collapse correlate with central venous pressure (CVP), but CVP is not a reliable predictor of volume status or responsiveness. Skinny, collapsing IVCs detected on ultrasound suggest volume responsiveness, but the lack of this finding does not exclude fluid responsiveness. IVC size and measurement can be affected by patient position, probe position, and a variety of health states from athleticism to increased abdominal pressure.
Pulse Pressure Variation
Respiratory pulse pressure variation derived from an arterial line trace in mechanically ventilated patients who are adequately sedated and receiving large tidal volumes can predict fluid responsiveness too. Variability in tidal volume, the presence of spontaneous breathing activity in a ventilated patient, and cardiac dysrhythmia can all confound the usefulness of this method.
End expiratory occlusion
Another test in mechanically ventilated patients is the end expiratory occlusion test. A positive pressure inspiratory breath cyclically decreases the left cardiac preload. Occluding the circuit at end-expiration prevents this cyclic impediment in left cardiac preload and acts like a fluid challenge. A 15 second expiratory occlusion is performed and an increase in pulse pressure or (if you can measure it) cardiac index predicts fluid responsiveness with a high degree of accuracy. The patient must be able to tolerate the 15 second interruption to ventilation without initiating a spontaneous breath.
Passive Leg Raise
Passive leg raising (PLR) involves measuring cardiac output (or its surrogate, velocity-time integral, or VTI) before and after tilting the semirecumbent patient supine and raising the legs to 45 degrees. This 'autotransfuses' blood from the lower limbs to the core and acts as a reversible fluid challenge. An increase in VTI identifies fluid responders. It would be nice if a PLR-induced increase in blood pressure revealed the answer, but BP does not reliably inform us of changes in cardiac output.
All these tests have limitations. Pulse pressure variation fails in patients with low respiratory system compliance, such as is found in ARDS(1). End-expiratory occlusion and PLR work in low respiratory system compliance, but the former still requires mechanical ventilation, and the latter requires a means of estimating cardiac output or a surrogate – oesophageal Doppler, the velocity-time integral measured by transthoracic echocardiography, and femoral artery flow (measured by arterial Doppler) have all been used. Non-invasive cardiac output monitors that are not operator dependent exist, such as the NICOM(TM) bioreactance device. Bioreactance cardiac output measurement is based on an analysis of relative phase shifts of an oscillating current that occurs when this current traverses the thoracic cavity. Its advantages are that it is noninvasive, it does not require endotracheal intubation or an arterial line, and it provides a good estimate of stroke volume in patients with atrial fibrillation.
A recent study evaluating the combination of PLR with NICOM(TM) bioreactance monitoring revealed that another tool could indicate volume responsiveness: an increase in carotid blood flow after PLR, as measured by carotid Doppler flow imaging(2). A threshold increase in carotid Doppler flow imaging of 20% for predicting volume responsiveness had a sensitivity and specificity of 94% and 86%, respectively. This was studied in a heterogenous group of hemodynamically unstable patients, suggesting applicability to the kind of patients who present to the ED, although numbers were small so more validation is required.
End-tidal carbon dioxide
End-tidal carbon dioxide (ETCO2) levels depend on cardiac output. Increasing cardiac output with a fluid challenge or PLR increases ETCO2,as long as ventilatory and metabolic conditions remain stable. In a recent small study, a PLR-induced increase in ETCO2 ≥ 5 % predicted a fluid-induced increase in cardiac index ≥ 15 % with sensitivity of 71 % (95 % confidence interval: 48-89 %) and specificity of 100 (82-100) %(3). The maximal effects of PLR on CI and ETCO2 were observed within 1 min.
So what can I use?
In summary, differentiating fluid responders from non-responders in the ED remains a challenge. The method used depends on available equipment and expertise, and whether the patient is spontaneously breathing or mechanically ventilated. The NICOM(TM) shows great promise but until your department can afford one, ultrasound is the way to go; small collapsing IVCs suggest fluid responders. Learning to measure a VTI on transthoracic echo or carotid Doppler flow will help you assess the response to a PLR in spontaneously ventilating patients. If they're mechanically ventilated, then looking for an ETCO2 rise after PLR could be a simpler alternative.

I look forward to more studies on these modalities, and to trying some of them in the resus room at every available opportunity.
1. Passive leg-raising and end-expiratory occlusion tests perform better than pulse pressure variation in patients with low respiratory system compliance
Crit Care Med. 2012 Jan;40(1):152-7

2. The use of bioreactance and carotid doppler to determine volume responsiveness and blood flow redistribution following passive leg raising in hemodynamically unstable patients
Chest. 2013 Feb 1;143(2):364-70

3. End-tidal carbon dioxide is better than arterial pressure for predicting volume responsiveness by the passive leg raising test
Intensive Care Med. 2013 Jan;39(1):93-100

This small study supports the hypothesis that therapeutic hypothermia can have positive inotropic effects in patients with cardiogenic shock of ischaemic or non-ischaemic origin.
Cooling resulted in a temperature-dependent decrease in heart rate and temperature-dependent increases in stroke volume index, cardiac index, mean arterial pressure, and cardiac power output. These changes reversed when the patients were rewarmed.
The authors summarise as follows:

In summary, our studies demonstrate that moderate hypothermia is feasible and safe also for patients in cardiogenic shock.

Improved cardiac performance may contribute to the considerable decrease of mortality for survivors of cardiac arrest, and the use of hypothermia can be recommended for patients with a clear indication for cooling and poor cardiac performance.

Moreover, hypothermia might be considered as a positive inotropic intervention during cardiogenic shock.


Moderate hypothermia for severe cardiogenic shock (COOL Shock Study I & II)
Resuscitation. 2013 Mar;84(3):319-25.

Most of us are pretty good at spotting hypotension and activating help or initiating therapy.
But 'hypotension' in many practitioners' minds refers to a low systolic blood pressure. Who pays serious attention to the diastolic blood pressure? A low diastolic in a sick patient to me is a warning sign that their mean arterial pressure (MAP) is – or will be – low. After all, we spend about twice as long in diastole as in systole, so the diastolic pressure contributes more to the MAP than does the systolic.
A recent study showed that a low diastolic BP was one of several factors predictive of cardiac arrest on hospital wards: the most accurate predictors were maximum respiratory rate, heart rate, pulse pressure index, and minimum diastolic BP. These factors were more predictive than some of the variables included in the commonly used Early Warning Scores that trigger an emergency review.
The 'pulse pressure index' examined in the study is the pulse pressure divided by the systolic blood pressure (ie. [SBP-DBP]/SBP) which of course will be higher with lower diastolic blood pressures.
Importantly, the authors point out:

"In addition, our findings suggest that for many patients there is ample time prior to cardiac arrest to provide potentially life-saving interventions."


…suggesting that there is still room for improvement in the identification and management of patients at risk for cardiac arrest, as the NCEPOD report 'Cardiac Arrest Procedures: Time to Intervene?' also showed.
They also recommend:

"…although systolic BP is commonly used in rapid response team activation criteria, incorporation of pulse pressure, pulse pressure index, or diastolic BP in place of systolic BP into the predictive model may be superior."


Perhaps this may remind all of us to keep an eye on the diastolic as well as systolic BP when patients first present to us, and to include the importance of recognising diastolic hypotension in the teaching we provide our medical, paramedical and nursing students.

Predicting Cardiac Arrest on the Wards: A Nested Case-Control Study
Chest. 2012 May;141(5):1170-6 Free Full Text here

Septic myocardial dysfunction is a well recognised contributor to shock in sepsis but for many of us we assume this to be gross systolic impairment. Interestingly a recent study highlights that patients with severe sepsis and septic shock frequently have diastolic dysfunction1. They found that diastolic dysfunction was the strongest independent predictor of early mortality, even after adjusting for the APACHE-II score and other predictors of mortality.
In this study, 9.1% of severe sepsis/septic shock patients had isolated systolic dysfunction, 14.1% had combined systolic and diastolic dysfunction, and 38% had isolated diastolic dysfunction.
Importantly, the authors point out that although diastolic dysfunction is associated with age, hypertension, diabetes mellitus, and ischaemic heart disease, diastolic dysfunction is a stronger independent predictor of mortality than age and the other co-morbidities. However, a limitation of the study acknowledged by the authors is that it did not include follow-up echocardiography examinations, so we do not know whether sepsis was responsible for a transient diastolic dysfunction or whether the observed diastolic dysfunction was a pre-existing condition.
Both troponin and NT-ProBNP elevations also predicted mortality.
Want to know how to measure diastolic dysfunction? These authors measured mitral annular early-diastolic peak velocity, or the e'-wave (called 'e prime'). It is a way of seeing how fast myocardial tissue relaxes in diastole, and if its peak velocity is slow (in this case < 8cm/s) there is diastolic dysfunction. We measure speed using Doppler, and in this case we're looking at the speed of heart tissue (as opposed to the blood cells within the heart chambers) so we do 'Tissue Doppler Imaging', or TDI. You need an echo machine with pulsed-wave Doppler, and you need to be able to get an apical view. This is explained really nicely here2 but if you don't have the time or the echopassion to read a whole article on TDI watch this one minute video (BY emergency physicians FOR emergency physicians!) on diastology, where TDI measurement of e' is shown from 45 seconds into the video.
For reference, there is some more detail on diastolic function measurements at the Echobasics site.
If you think you can cope with any more of this level of awesomeness and want these geniuses to talk to you from your smartphone in the ED then get the free One Minute Ultrasound app for Android or Apple devices.

AIMS: Systolic dysfunction in septic shock is well recognized and, paradoxically, predicts better outcome. In contrast, diastolic dysfunction is often ignored and its role in determining early mortality from sepsis has not been adequately investigated.

METHODS AND RESULTS: A cohort of 262 intensive care unit patients with severe sepsis or septic shock underwent two echocardiography examinations early in the course of their disease. All clinical, laboratory, and survival data were prospectively collected. Ninety-five (36%) patients died in the hospital. Reduced mitral annular e'-wave was the strongest predictor of mortality, even after adjusting for the APACHE-II score, low urine output, low left ventricular stroke volume index, and lowest oxygen saturation, the other independent predictors of mortality (Cox's proportional hazards: Wald = 21.5, 16.3, 9.91, 7.0 and 6.6, P< 0.0001, <0.0001, 0.002, 0.008, and 0.010, respectively). Patients with systolic dysfunction only (left ventricular ejection fraction ≤50%), diastolic dysfunction only (e'-wave <8 cm/s), or combined systolic and diastolic dysfunction (9.1, 40.4, and 14.1% of the patients, respectively) had higher mortality than those with no diastolic or systolic dysfunction (hazard ratio = 2.9, 6.0, 6.2, P= 0.035, <0.0001, <0.0001, respectively) and had significantly higher serum levels of high-sensitivity troponin-T and N-terminal pro-B-type natriuretic peptide (NT-proBNP). High-sensitivity troponin-T was only minimally elevated, whereas serum levels of NT-proBNP were markedly elevated [median (inter-quartile range): 0.07 (0.02-0.17) ng/mL and 5762 (1001-15 962) pg/mL, respectively], though both predicted mortality even after adjusting for highest creatinine levels (Wald = 5.8, 21.4 and 2.3, P= 0.015, <0.001 and 0.13).

CONCLUSION: Diastolic dysfunction is common and is a major predictor of mortality in severe sepsis and septic shock.


1. Diastolic dysfunction and mortality in severe sepsis and septic shock
Eur Heart J. 2012 Apr;33(7):895-903
2. A clinician's guide to tissue Doppler imaging
Circulation. 2006 Mar 14;113(10):e396-8 Free Full Text